LaToya Ruby Frazier
---
Biography
In her photographs, LaToya Ruby Frazier, artist and activist, combines intimate extracts of her relationships with her grandmother and mother with the history of the working-class industrial town of Braddock, Pennsylvania, where she was born and raised.

Between intimate photography and social documentary, she reports the decline of this once prosperous steel-producing town, where poverty, unemployment and health problems relating to pollution have largely devastated the local population.
Recently, the city was deprived of its community hospital, destroying even more jobs and making access to care difficult for residents of one of the most polluted regions in the United States. Ironically, in 2010, Braddock was the town chosen by the brand Levi?s as an emblematic city in which to create its advertising campaign focusing on the figure of "urban pioneers".

Although LaToya Ruby Frazier's work mainly consists of self-portraits and portraits of her grandmother and mother to whom she taught photographic techniques and she considers as a collaborator (Notion of Family ongoing series since 2002), she has also created a series of lithographs, Campaign for Braddock hospital (Save Our Community Hospital) gathered in a portfolio which reports the protests against the closing down and the destruction of the community hospital and criticizes the watered down use by Levi's of the city and its people.
This contested history is also brought to the forefront in The Grey Area series (2011), a one-year study and documentation of the demolition of Braddock Hospital by health care corporation (U.P.M.C.).

From the outset of her career, LaToya Ruby Frazier has moved freely between photography, video and performance. This way of exploring the image while conceiving different ways of getting her pictures allows her to escape the limits of documentary photography and to arrange other forms in order to transpose ordinary speech and ensure that other voices are heard.


LaToya Ruby Frazier was born in 1982; she lives and works between New Brunswick (NJ), Braddock (PA), and New York (NY).
Her work is now included in leading museum and foundation collections such as the MoMA, new York; Whitney Museum of American Art, New York; Nasher Museum at Duke University, Durham NC; JP Morgan Chase Collection, New York ; Kadist Foundation, Paris; Zabludowicz Collection, London; Carnegie Museums, Pittsburgh; MCA, Chicago; MOCP Chicago; and the Brooklyn Museum, New York; Centre National des Arts Plastiques, Paris.
---
Gallery exhibitions
---
Press
...
No more pages to load
---
Publications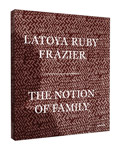 The Notion of Family
Publisher:
2014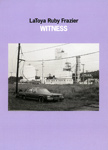 LaToya Ruby Frazier WITNESS
Publisher: Contemporary Arts Museum Huston
2013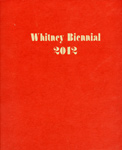 Whitney Biennial 2012
Publisher: Whitney Museum of American Art
2012