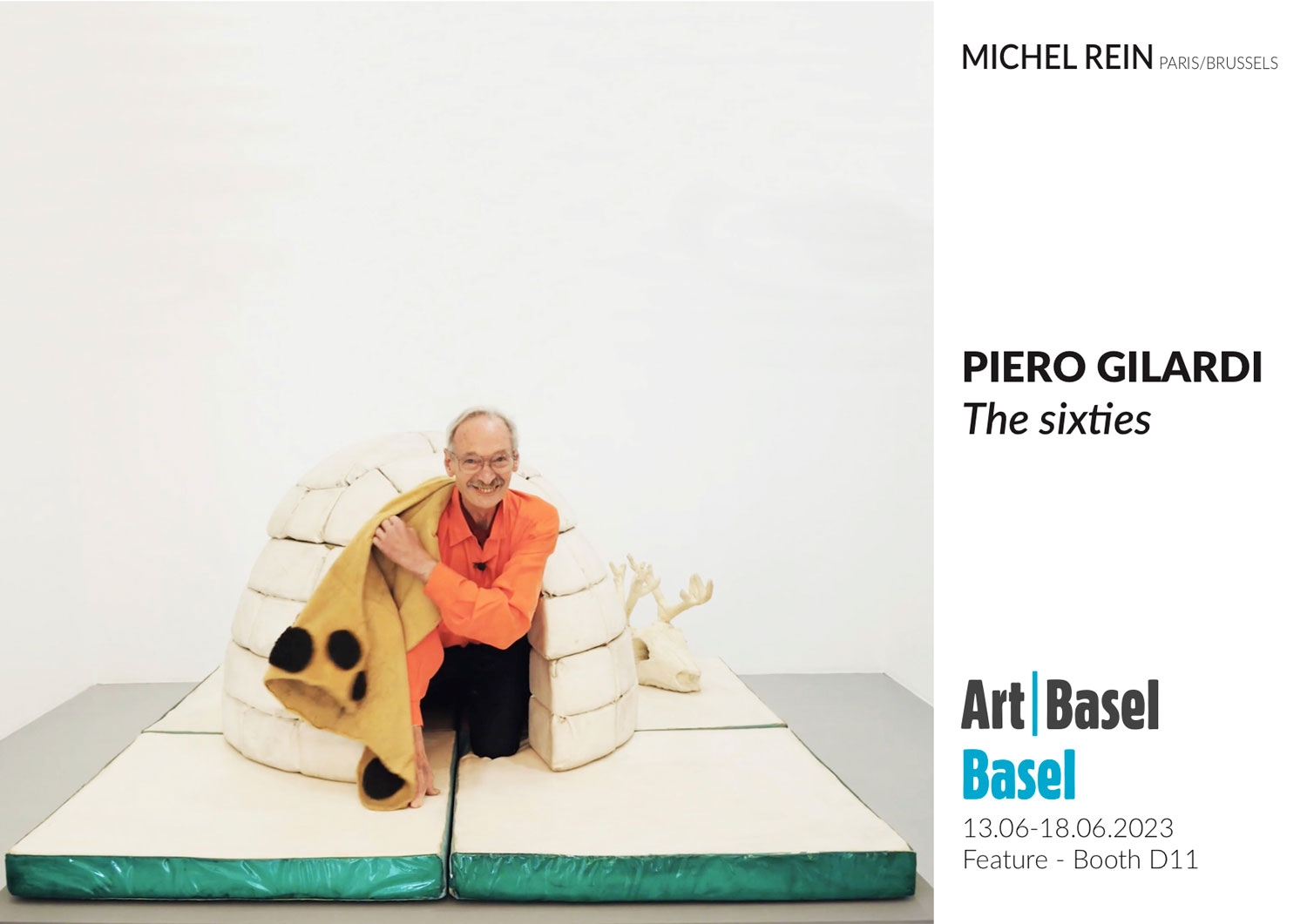 ART FAIR
Art Basel 2023 - Piero Gilardi: gli anni '60
Jun. 13 - Jun. 18, 2023
PIERO GILARDI
Les années 60

« Il y avait dans les premiers Tappeti-Natura la nostalgie d'une certaine nature, celle de la Renaissance, vaincue par l'industrialisme, mais il me semble qu'il y avait aussi un embryon métaphorique du lien actuel entre le naturel et l'artificiel.»
Piero Gilardi


Notre projet a été conçu avec Piero Gilardi un an avant son décès en mars 2023. Ces œuvres des années 60, provenant de l'atelier de l'artiste, ont été réalisées à l'époque où Piero Gilardi était un protagoniste influent des premières expositions de l'Arte Povera.
Piero Gilardi est préoccupé par les questions écologiques depuis des décennies. Il a choisi de représenter la nature, non pas en utilisant des matériaux élémentaires (eau, terre, feu...), mais un matériau industriel et contemporain, la mousse polyuréthane, qu'il a découpée, arrangée, collée et peinte pour montrer une nature poussée au-delà du réel, avec ses couleurs vives, éclatantes et gaies. La nature est saisie dans ses moindres détails, non pas sous forme de paysages mais plutôt de fragments.
Piero Gilardi a fait des Tapis-Nature (depuis 1965), à mi-chemin entre la peinture et la sculpture, un signe de reconnaissance de son travail, un objet de réflexion pour parler d'une nature proche et familière qui résonne en chacun de nous. Les Tappeti-Natura connurent un grand succès commercial à Paris, New York, Cologne et Turin (Sperone 1966, Sonnabend 1967, Zwirner 1967, Fischbach 1967).
Igloo, 1964, œuvre emblématique, présente dans toutes les grandes expositions de Piero Gilardi dont la 45e Biennale de Venise (1993), peut être vue comme un désir de retour à une forme de vie primitive loin des défis de la société de consommation.
Nous sommes fiers de présenter ces œuvres exceptionnelles en hommage à Piero Gilardi, artiste majeur de la deuxième partie du 20ème siècle.

PIERO GILARDI
The Sixties.
'In the first Tappeti-Natura there was a nostalgia for a certain nature, the Renaissance nature which had been defeated by industrialism, yet it seems to me that there was also a metaphorical embryo of today's link between natural and artificial.''
Piero Gilardi
Our statement was conceived with the artist a year before he passed away in March 2023.
These works of the 60's, coming from the artist studio, were made at the time Piero Gilardi was an influent protagonist of the first Arte Povera exhibitions. Gilardi has been concerned by ecological issues for decades. He chose to represent Nature, not by using elementary materials (water, earth, fire...), but by an industrial and contemporary material, polyurethane foam, which he cut up, arranged, glued and painted to show a nature pushed beyond the real, with its bright, vivid and cheerful colors. Nature is caught in its smallest details, not in the form of landscapes but rather as fragments. Piero Gilardi has made the Tappeti-Natura (since 1965), halfway between painting and sculpture, a sign of recognition of his work, an object of reflection to speak of a close and familiar nature that resonates in each of us.
The Tappeti-Natura were immediately a great commercial success in Paris, New York, Cologne, and Turin (Sperone 1966, Sonnabend 1967, Zwirner 1967, Fischbach 1967).
Igloo, 1964 an iconic work, exhibited in all the major Piero Gilardi's exhibitions including the 45th Venice Biennial (1993), can be seen as a desire to return to a form of primitive life far from the challenges of the consumer society.
We are proud to show these exceptional works as a tribute to Piero Gilardi, a major artist of the second half of the 20th century.