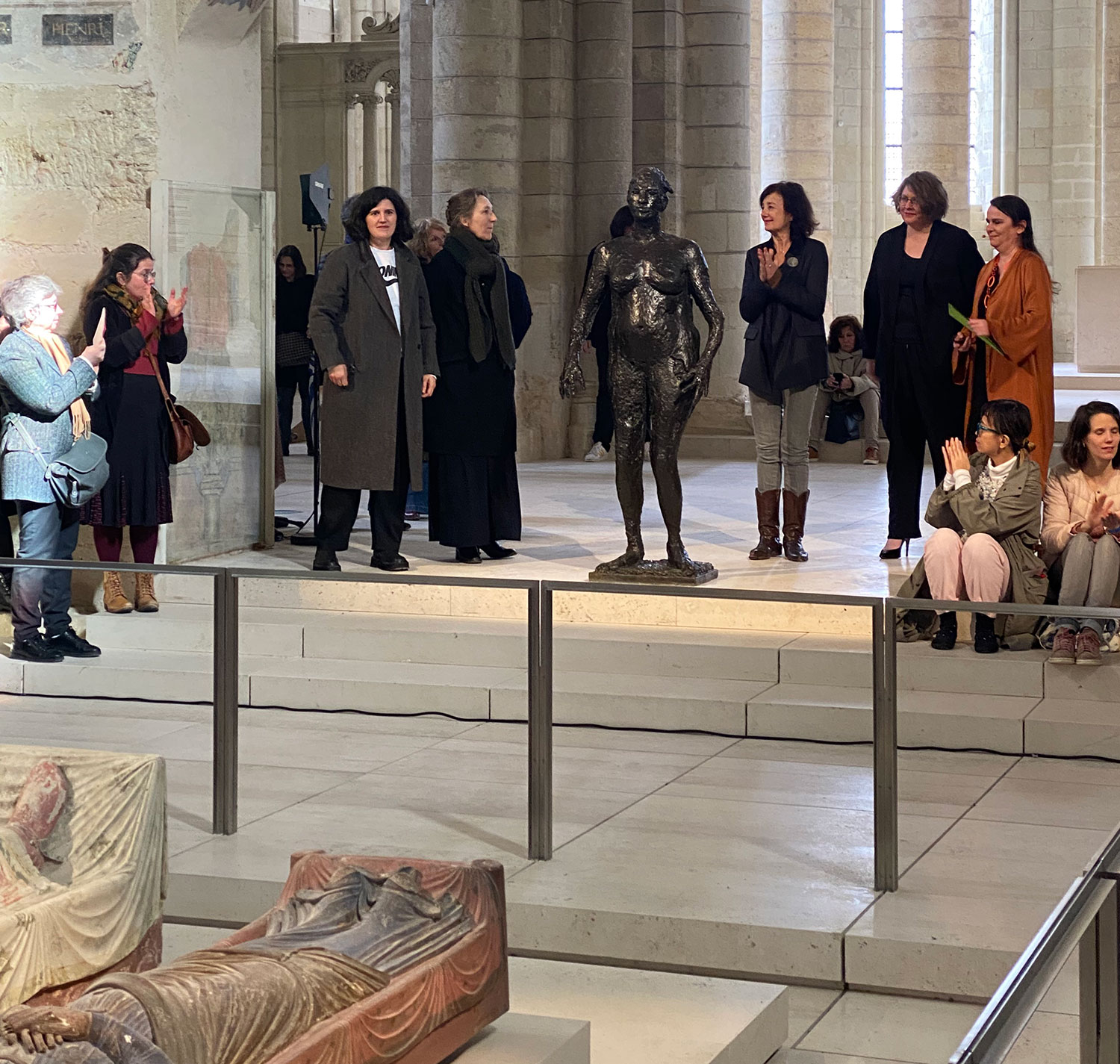 MUSEUM EXHIBITION
Agnès Thurnauer: Aliénor L'ouragane
Abbaye de Fontevraud, France
Apr. 01 - Jul. 16, 2023
Aliénor l'Ouragane
Pour la deuxième édition de l'exposition Connexions\Collections, le musée d'Art moderne de Fontevraud a invité l'artiste Agnès Thurnauer à présenter Aliénor l'Ouragane du 1er avril au 16 juillet 2023, liant la figure d'Aliénor d'Aquitaine, très présente à l'abbaye, à la sculpture L'Ouragane de Germaine Richier, artiste majeure du musée.
L'exposition s'articulera en deux temps et deux espaces. L'Ouragane sortira des salles pour rejoindre la grande nef de l'abbatiale de Fontevraud et se confronter au gisant d'Aliénor. Ainsi se créera une conversation entre des principes complémentaires : verticalité/horizontalité, clair/obscur, intellectuel/tellurique, action/inaction, instant/éternité…
Pour les explorer, Agnès Thurnauer a invité quatre autrices : Marie Darrieussecq, Hélène Giannecchini, Anne Kawala, Tiphaine Samoyault, à écrire un texte sur Aliénor d'Aquitaine, figure connue mais nébuleuse, faisant écho à sa rencontre avec L'Ouragane. Lors d'une performance inaugurale, le texte sera lu, à tour de rôle, par les quatre autrices déambulant autour des deux sculptures. Une captation de l'événement sera réalisée et le film sera ensuite diffusé dans une des salles du musée pendant toute la durée de l'exposition.
Dans le même temps, Agnès Thurnauer installera trois séries d'œuvres – des Big-big et Bang-bang, des Dessins préparatoires et des Prédelles – en regard des œuvres de la collection. Ces peintures auront pour fonction de révéler les objets patrimoniaux qui les entourent car pour l'artiste, une œuvre s'inscrit davantage dans la contemporanéité du regard que l'on pose sur elle que de l'époque où elle a été produite.
Commissariat de l'exposition : Dominique Gagneux, directrice du musée et Gatien Du Bois, chargé de projets au musée



For the second edition of the exhibition Connexions\Collections, the Fontevraud Museum of Modern Art has invited the artist Agnès Thurnauer to present Aliénor l'Ouragane from April 1 to July 16, 2023, linking the figure of Aliénor d'Aquitaine, who is very present in the abbey, to the sculpture L'Ouragane by Germaine Richier, a major artist of the museum.

The exhibition will be divided into two parts and two spaces. L'Ouragane will leave the rooms to join the great nave of the Abbey of Fontevraud and confront the recumbent statue of Eleanor. Thus, a conversation will be created between complementary principles: verticality/horizontality, light/dark, intellectual/telluric, action/inaction, instant/eternity...

To explore these principles, Agnès Thurnauer invited four authors: Marie Darrieussecq, Hélène Giannecchini, Anne Kawala, and Tiphaine Samoyault, to write a text about Eleanor of Aquitaine, a well-known but nebulous figure, echoing her encounter with L'Ouragane. During an inaugural performance, the text will be read, in turn, by the four authors walking around the two sculptures. A film of the event will be made and then shown in one of the museum's rooms for the duration of the exhibition.

At the same time, Agnès Thurnauer will install three series of works - Big-big and Bang-bang, Preparatory drawings and Predelles - opposite the works in the collection. These paintings will have the function of revealing the heritage objects that surround them, because for the artist, a work is more in keeping with the contemporaneity of the way we look at it than with the time in which it was produced.

Curator of the exhibition: Dominique Gagneux, director of the museum and Gatien Du Bois, project manager at the museum.