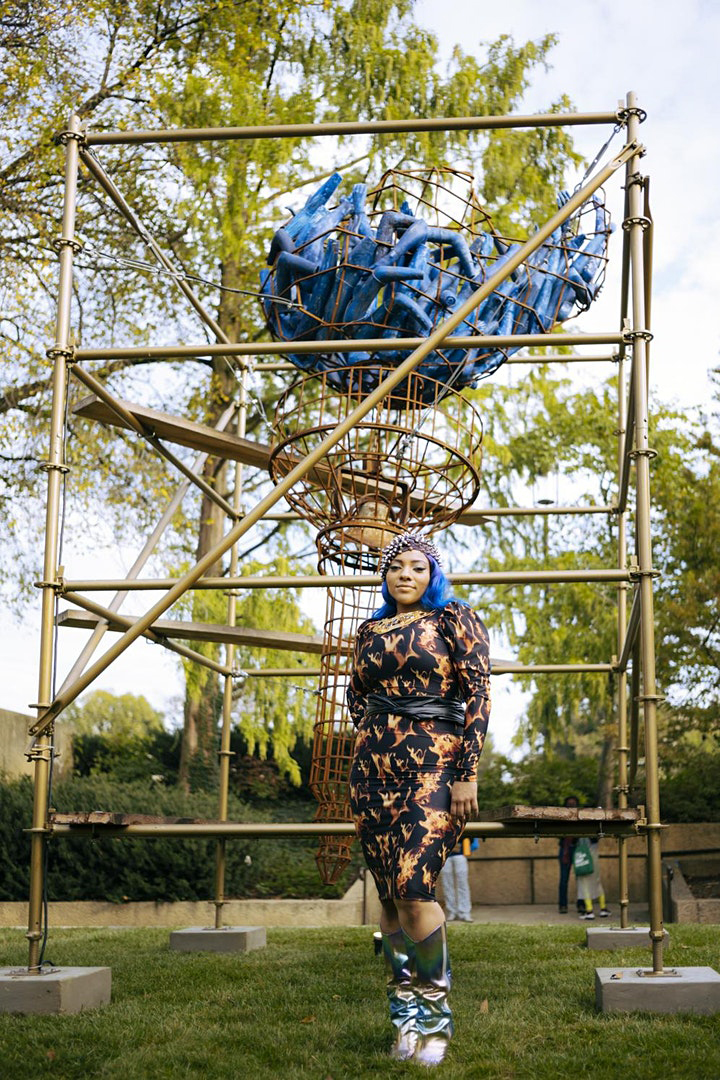 PERFORMANCE
Abigail DeVille presents Dark Matters
Hirshhorn Museum and Sculpture Garden
Apr. 17 - Apr. 17, 2022
Join artist Abigail DeVille for a sunset performance to mark the end of Light of Freedom's exhibition in the Hirshhorn Sculpture Garden. On eve of the exhibition closing, DeVille calls citizens to contemplate this history through the lens of a participatory performance focused on the theme of illumination. Visitors will come together to collectively create sound and light as the sun sets over the National Mall.

Dark Matters is a performance presented to mark the closure of Abigail DeVille's Light of Freedom (2020), a sculpture displayed in the Hirshhorn Sculpture Garden from October 15, 2021 to April 17, 2022. The performance will begin at 7:30 p.m. on Saturday, April 16, and last approximately 45 minutes.
Rejoignez l'artiste Abigail DeVille pour une performance qui marque la fin de l'exposition Light of Freedom au Hirshhorn Sculpture Garden. À la veille de la fermeture de l'exposition, DeVille incite les citoyens à contempler cette histoire à travers le prisme d'une performance participative centrée sur le thème de l'illumination. Les visiteurs se réuniront pour créer collectivement du son et de la lumière au moment où le soleil se couche sur le Mall National.

Dark Matters est une performance réalisée pour marquer la fermeture de Light of Freedom (2020) d'Abigail DeVille, une sculpture exposée dans le Hirshhorn Sculpture Garden du 15 octobre 2021 au 17 avril 2022. La performance commencera à 19 h 30 le samedi 16 avril et durera environ 45 minutes.