Jimmie Durham
Biography
Click here to download full cv

Jimmie Durham was born in 1940 in the USA.
Early 1960's, active in theater, performance, and literature in the U.S. Civil Rights Movement. First solo art exhibit in Austin, Texas in 1965. Moved to Geneva, Switzerland in 1969, returned to U.S. in 1973. Political organizer in the American Indian Movement, 1973-1980, Director of the International Indian Treaty Council and representative at the United Nations.
Director of the Foundation for the Community of Artists (FCA) New York City, 1981-83.
Moved to Mexico in 1987, returned to Europe in 1994.
Exhibited in Museum van Hedendaagse Kunst in the Museum for Contemporary Art in Antwerp, Centre national des arts plastiques (CNAP), Gent, Palais des Beaux Arts in Brussels, ICA London, Documenta in Kassel, Hamburg Kunstverein, FRAC in Reims, Wittgenstein Haus in Vienna, Whitney Biennial, Kunstverein in Munich, Venice Biennale, among others. In 2009 the Musée d?Art Moderne de la Ville de Paris presented a solo show by Jimmie Durham and he participated at the Lyon Biennale.
In 2012 The Muhka Anvers host a retropective of the artist\'s work, and he participated in (d)OCUMENTA 13.

In 2017, Jimmie Durham will have a touring major survey (his first one in the USA) at the Hammer Museum, LA, Walker Art Center, Minneapolis and Whitney Art Museum, NYC.
Publications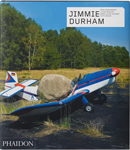 Jimmie Durham
May 2017
Publisher: Phaidon
ISBN 9780714874012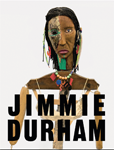 Jimmie Durham: At the center of the world
January 2017
Publisher: Prestel
ISBN 978-3-7913-5568-9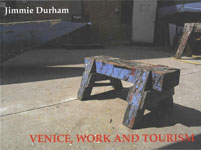 Jimmie Durham : Venice, work and tourism
May 2015
Publisher: Mousse Publishing
ISBN 978-88-6749-134-6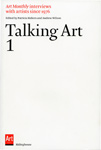 Talking Art 1, Art Monthly interviews with artists since 1976
January 2013
Publisher: Patricia Bickers and Andrew Wilson
ISBN 978-1954644562