ORLAN
Biography
Click here to download full cv

ORLAN was born on May 30th 1947 in Saint Etienne, France. She lives and works between Los Angeles and Paris.
From 1965, she has been active in photography, video, sculpture, installations, performance, etc. In 1977, her performance The Artist?s Kiss during the FIAC in Paris was a huge scandal. In 1978 she created the International Symposium of Performance in Lyon. In 1982, she founded the first on-line magazine of contemporary art, Art-Accès-Revue, on France?s precursor to the internet, the Minitel. She wrote the Carnal Art manifesto, and from 1990 to 1993 she conducted her series of 9 surgery-performances, filmed and broadcast in institutions throughout the world, among which the Centre Georges Pompidou in Paris.

She has had several retrospectives (selection):
M HKA Museum, Antwerpen, 2012
Tallinn Art Hall, Estonia, 2008
Musée d?Art Moderne de Saint-Etienne, France, 2007
CCC Tours, France, 2004
Centre National de la Photographie, Paris, France, 2004
FRAC des Pays de la Loire, France, 2002
Centro de Fotografia, Salamanca, Spain, 2002
Museum Artium, Victoria, Spain, 2002

ORLAN has been featured in many exhibitions (selection):
In the USA: Andy Warhol Museum, Pittsburgh ; LACMA, MOCA, Getty Museum, Los Angeles; PS1, New York; Bass Museum, Miami ; Milred Kemper Art Museum, Saint-Louis, Missouri ; Sheldon Museum, Lincoln, Nebraska ; The Schmidt Center Gallery Public Space, Florida Atlantic University, Boca Raton
In Belgium : M HKA Museum, Antwerpen
In Canada: Art Gallery of Vancouver
In Italy: MADRE Museum, Napoli ; Palazzo Strozzi, Florence; Palazzo delle Esposizioni, Rome; Palazzo Grassi and Palazzo Franchetti, Venice
In France: in Paris: Centre Georges Pompidou, Centre National de la Photographie, Palais de Tokyo, Maison Européenne de la Photographie
In Germany: Kunst Museum, Ahlen; KW Institute for Contemporary Art, Berlin; Städtische Galerie, Karlsruhe
In Austria: Kunsthalle and MAK, Vienna
In Luxembourg: Casino of Luxembourg
In Spain: Miro Foundation, Barcelona, Contemporary Art Museum, Vitoria; Museum of Photography, Salamanca; MACBA, Madrid
In Switzerland: Musée de l?Elysée, Lausanne
In Russia: House of Photography, Laboratoria Art & Science Space, Moscow
In South Korea: Center Hall of the National Museum of Contemporary Art, Seoul
In Japan : Red Brick Warehouse, Yokohama The National Museum of Art, Osaka
Publications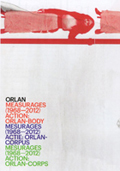 MesuRAGES (1968-2012) Action: ORLAN-body
November 2012
publisher: Editions du M HKA
French / English
Texts by Bart de Baere, Sophie Gregoir, Wim Van Mulders, Hubert Besacier, Alain Charre
295 x 213 mm
64 pages
softcover

Un boeuf sur la langue
September 2011
Publisher: Fage Editions
French
67 pages
358 x 258 mm
hardcover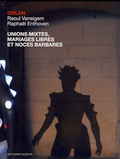 ORLAN, Unions mixtes, mariages libres et noces barbares
November 2010
author: Raphaël Enthoven, Raoul Vaneigem
publisher: Edtions Dilecta
French / English
22,6 x 28,5 cm
127 pages
hardcover
25 €

trasngression transfiguration
April 2009
Publisher: L'Une et l'autre
Co-writer: Paul Virilio
French
105 pages
softcover
13 €
ISBN 978-E-35729-016-7
Le Récit / The Narrative
November 2007
Publisher: Charta
French, English
350 x 215 mm
hardcover
ISBN 8881586523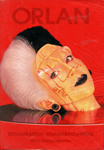 ORLAN, Refiguration, Self-hybridations, Pre-Columbian Series
January 2001
author: Dominique Baqué, Marek Bartelik, ORLAN
publisher: Al DanteFrench/English
280 x 210 cm
150 pages
hardcover
ISBN 2-911073-77-0

Est-ce que vous êtes belge ?
November 1999
Publisher: ENSAV / La Cambre /  Yellow now
French
65 pages
215 x 315 mm
hardcover