RaphaŽl Zarka
Biography
Click here to download full cv

Born in 1977 in Montpellier (France). Lives and works in Paris (France) .

Sculptor, Raphaël Zarka also expresses himself through photography, drawing or video. Raphaël Zarka's approach refers to science, industry, philosophy, the perpetual search for new trajectories. Through his work, he collects forms that can be minimal, geometric, but remain recognizable while being isolated from their context.

Raphael Zarka awarded the Ricard Prize in 2008 and he was nominated for the Marcel Duchamp Prize in 2013. His works have been exhibited at Tate Modern (London), Centre Pompidou-Metz (Metz), Palais de Tokyo (Paris), MAXXI (Roma), Museo Experimental el Eco (Mexico), Musée d'Art Moderne de la Ville de Paris (Paris), Protein Studio (London), Museum of Contemporary Art - MOCAD (Detroit), Luciana Brito Galeria (Sao Paulo), Institute of Contemporary Arts Singapore (Singapore), Le Corbusier's Villa Savoye (Poissy), EACC - Espai d'art Contemporani de Castelló (Castellon), MUDAM (Luxembourg), Stroom Den Haag (La Haye), Pastificio de Cerere (Roma), CAN (Neuchâtel), The Art Foundation - TAF (Athens), Modern Art (Oxford), Zabludowicz Collection (New York), Le Grand Café (Saint-Nazaire), FRAC Franche Comté (Besançon), Les Abattoirs (Toulouse), Performa 11 (New York), New Visual Art Performance Biennial (New York).

His work is part of prestigious collections as Centre Georges-Pompidou (Paris), Musée d'Art Moderne de la Ville de Paris (Paris), MUDAM (Luxembourg), Kadist Art Foundation (Paris), Zabludowicz Foundation (London), Museum of Old and New Art (Hobart), among others.
Publications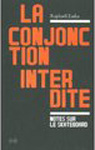 La conjonction interdite
November 2011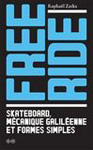 Free Ride, skateboard, mťcanique galilťenne et formes simples
November 2011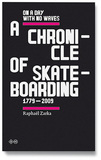 On a day with no waves (a chronicle of skateboarding 1779-2009)
November 2011
13.70 €